Menstrual Cups
- Your Complete Guide
At Loulou, we offer healthy and affordable alternatives to traditional, disposable period protection. In this guide, we're answering all of your questions about the use and design of our menstrual cup. Read on for tips, sizes, maintenance, tests, reviews, and prices. Here is our complete guide to menstrual cups for a happy period. Stay leak and worry-free!
The period cup or menstrual cup
What is a menstrual cup?
The menstrual cup, also called a cervical cup or period cup, is a type of feminine hygiene protection used during menstruation.
It's usually shaped like a funnel with rounded edges and a tip or ring on the end for easy removal.
The menstrual cup goes inside the vagina, under the cervix, to collect period blood. It goes inside the body, and once it's placed, the menstrual cupis completely invisible.
You can keep it in for up to 8 hoursbefore being emptied, rinsed, and reinserted.
The menstrual cup is reusable. It lasts for several years (between 5 and 10). The cup is a safe ecological alternative to disposable sanitary protection like tampons and pads.
What is a menstrual cup made out of?
Menstrual cups can be made of rubber, latex, or silicone. Latex has been excluded from manufacturing menstrual cups for the last several years because it can cause allergies, unlike medical-grade silicone.

At Louloucup, we use medical silicone to limit the risk of allergies.

Our menstrual cups are manufactured in France under strict hygienic conditions in a factory authorized to produce medical applications following ISO 13485 standards. The ISO 13485 certification assures you that each Louloucup is manufactured with the most outstanding care and per the standards imposed by the international organization for standardization.

We strictly control the composition and manufacturing process.

The silicone and colorants we use comply with the strictest standards, including FDA, USP class VI, ISO 10993-6-10, REACH, and Rohs. Louloucup does not use phthalates or bisphenol A. Our menstrual cups are latex-free and fragrance-free.

When you buy a Louloucup, you can be sure that:
👩🏽‍⚕️
You are buying a high-quality and very comfortable menstrual cup
🌼
Your menstrual cup is healthy and made without toxic materials
✔️
The silicone and dyes used comply with the strictest industry standards
Made in France using 100% medical silicone. Our clean, safe menstrual cup is a safe alternative to other period protection. We have strong arguments against critics who link the menstrual cup to Toxic Shock Syndrome. Check out our article, where we answer questions and learn more about the SCT.


Louloucup is your best friend during your period
The Louloucup adapts perfectly to your body's natural movements thanks to its flexibility. Once in place, you won't notice the cup. You don't feel it, and you shouldn't have any discomfort. It has it all - it's painless, invisible, and super discreet! You are totally free to move and feel protected in all your clothes (including your tightest outfits). You can wear your menstrual cup at night and while bathing. These handy cups are a daily essential when you're on your period. On top of that, our cup is a great way to explore your body and better understand yourself as a woman. Use the cup to learn more about your menstrual flow and how your amazing body functions.
Why use a menstrual cup during your period?
• It's more comfortable! First of all, the menstrual cup is very super comfy. It is much more comfortable than a tampon because it doesn't dry out the the vagina. You can even use it on the last day of the cycle when your flow is very light.
• The cup is perfect for heavy flowsand even hemorrhages. The cups can absorb up to 4 tampons of menstrual blood.
• We're transparent about the the composition of our menstrual cup . Unlike pads or tampons, Louloucup is risk-free and made without carcinogens or endocrine disruptors.
• It's not harmful to the environment. The cup offers the most eco-friendly hygienic protection on the market. Our menstrual cup can be used between 5 and 10 years.
• It's cheaper! The menstrual cup is one of the most affordable period products. Our cup costs $28.90 for 5 years of use. Buying tampons every cycle can cost women around 90 euros per year.
The menstrual cup: an intimate revolution
Who can use a menstrual cup?
Absolutely all menstruating women. Our cup adapts to all women, including teens. You can use the menstrual cup whether you are 13 or 50 years old. The flexible material adapts to all bodies, shapes, and sizes. Plus, we have different sizes to ensure a better fit.
There are no rules, you just have to be comfortable with your body.
If you use anintrauterine device, better known as an IUD, with hormones or copper, it is recommended to ask for advice from your gynecologist or a medical professional . All women are different and it's important to get your doctor's approval beforebuying a menstrual cup. Even if the suction cup effect is minimal during removal, your doctor may recommend adjusting your IUD. For more information read our article, are my IUD and period cup good friends?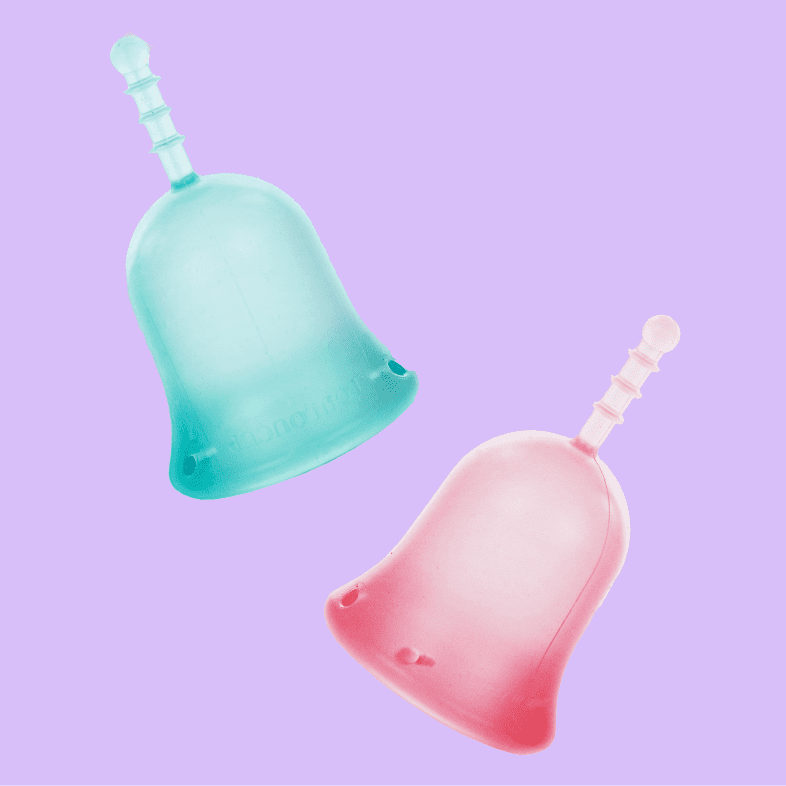 Which menstrual cup to choose?
Here are some questions to ask yourself:
• Do you have heavy or normal flow?
• Do you have sensitive anatomy?
• Are you a virgin? Are you comfortable with your body?
• Do you practice a sport that strengthens your perineum?
Which menstrual cup size should you choose?
The cup comes in two sizes and two flexibility levels. Louloucup menstrual cups adapt to all body shapes and sizes.
Most women can wear size S or M. It is generally recommended for women with a heavy flow to use size M. Most women with a normal or light flow can use size S. However, don't rely on these measures alone. Listen to your body and see what works for you.
The SMALL is easy to insert into the vagina due to its sleek and slim shape.
On the other hand, the MEDIUM (standard size) will fit vaginas that are less narrow, more relaxed, with less toned perineum. For example, M might be better for a woman who has experienced a vaginal delivery.
Choosing a period cup that can adapt to your unique anatomy, not just your flow levels is essential. It's better to get a correctly sized cup that will be easy to wear and insert than an incorrectly sized cup that will be painful. An appropriately sized cup does not cause discomfort or leaks.
| DIMENSIONS | Louloucup Small | Louloucup Medium |
| --- | --- | --- |
| Diameter | 42 mm | 46 mm |
| Length | 45 mm | 50 mm |
| Stem | 25 mm | 20 mm |
| Volume | 25 ml | 30 ml |
What kind of flexibility should I choose?
At Louloucup, your comfort is our priority. That's why our period cups are available in two flexibility levels:
The softer blue menstrual cup is ideal for women with a more sensitive anatomy
The pink menstrual cup is slightly firmer and perfect for women who regular practice sports
How to insert your menstrual cup?
STEP 1: GET COMFORTABLE
First, you must have clean hands before inserting or removing your cup.
Inserting your menstrual cup is simple. There are several ways to do it:
• On the toilet
• In the bathtub or in the shower
• Lying on a bed
• Squatting
• One leg raised on the edge of the toilet or the edge of the bathtub
It's up to you to find the position that works best. The position you choose is important because it should help you relax your muscles for easier insertion.
Over time, inserting your cup becomes second nature. Practice makes perfect!
If you're a little nervous about inserting your period cup, we recommend inserting it in the shower with one leg raised on the edge of the bathtub. Take the time to breathe and be gentle.
The most important thing is to stay calm and relaxed. You got this!
STEP 2: FOLDING THE CUP
Folding your menstrual cup is very simple:
Fold the menstrual cup using the method that works best for you. Here are some folding examples: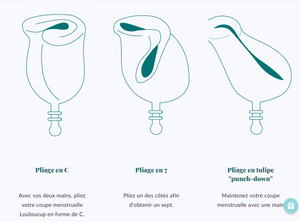 Test several folds and choose the one that works best for you. It should unfold easily and work with your body. Insert the folded cup gently by spreading your vagina lips. Introduce the folded menstrual cup gently and with small movements at the entrance of your vagina. Then release. The cup then unfolds in your vagina to prevents blood from flowing.
Once inserted, you can slightly turn your cup in one direction, then in the other while holding the base. Make sure the cup is comfortable and in the right spot. If the cup is placed incorrectly, it could cause leaking.
The first few times you use a period cup can be intimidating. It's normal! Take the time to discover the cup and how it works. To check the correct placement of your menstrual cup, insert a finger to check that the base is open and that the cup is not folded. If you feel that the base of the cup is round, the cup is well positioned.
Remember, there's no pressure! Don't be nervous to take all the time you need. Try, test and if you don't succeed, try again next time! Once you get the hang of it you'll realize how revolutionary the cup is. We promise! :)
Lubricant and menstrual cup: Can I use a lubricant to help insert my menstrual cup?
Your period bloodis actually a lubricant. Usually, there's no need for additional lubricant. Also, we don't recommend using the menstrual cup outside of your period, even if it's to try it out. You will not be properly lubricated, and the insertion will be difficult and painful.
At first, if you are worried about inserting or have difficulty placing your cup, you can use a little lubricant. Coat the edges of the cup with a water-based lubricant.
You can also use water. Just avoid oil-based lubricants because they damage the silicone menstrual cup.
Position of the menstrual cup
The cup is made from ultra-flexible material. When properly inserted, a menstrual cup sits low in the vaginal canal, below the cervix. Once properly positioned, there is no risk of leaks.
Menstrual cups can be positioned differently depending on your body. It may be completely inside or the end may stick out slightly. It does not matter. Once inserted it should absolutely not bother you.
If the menstrual cup is completely inside, you can use the base to remove it by pulling slightly. Once you reach the base of the cup, pinch and remove.
If the menstrual cup is too high, don't panic, it can happen! Just push it with your vaginal muscles to bring it down.
High position of the cup
Menstrual cups are worn much lower than a tampon and are placed directly under the cervix. Once properly positioned, there is no risk of leaks.
The menstrual cup can be positioned in different ways depending on each anatomy. It may be completely inside or the rod may stick out slightly. It doesn't matter. The cup, once inserted, should absolutely not bother you.
If the menstrual cup is completely inside, the stem makes it easier to lower it when removing. By pulling slightly on it, we manage to reach the base of the cup in order to pinch it and then remove it.
If the menstrual cup sits very high - don't panic - that's completely normal, just push it down with your vaginal muscles.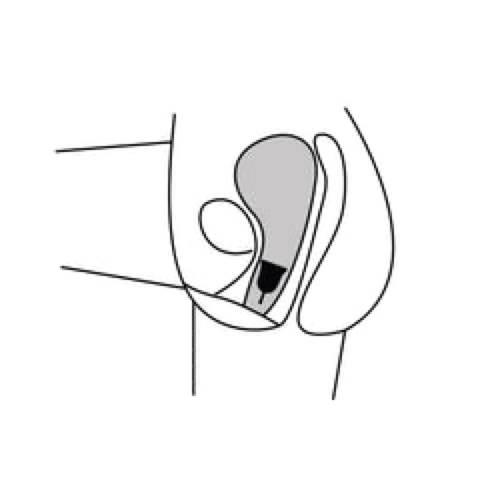 High position of the cup
Low cup position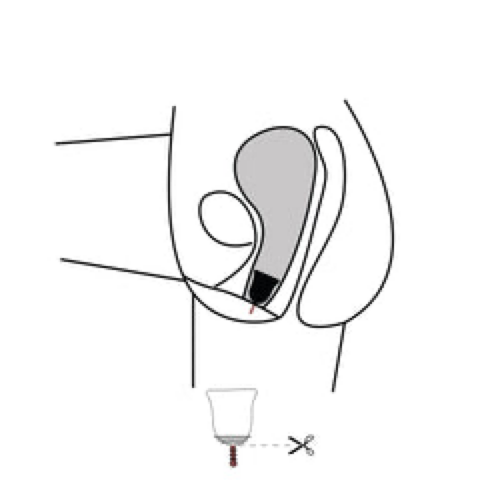 Don't pull on the stem to remove your menstrual cup. If the stem sticks out and gets in your way, you can cut it off.
Of course, always remove your menstrual cup before cutting the stem.
How to remove your menstrual cup?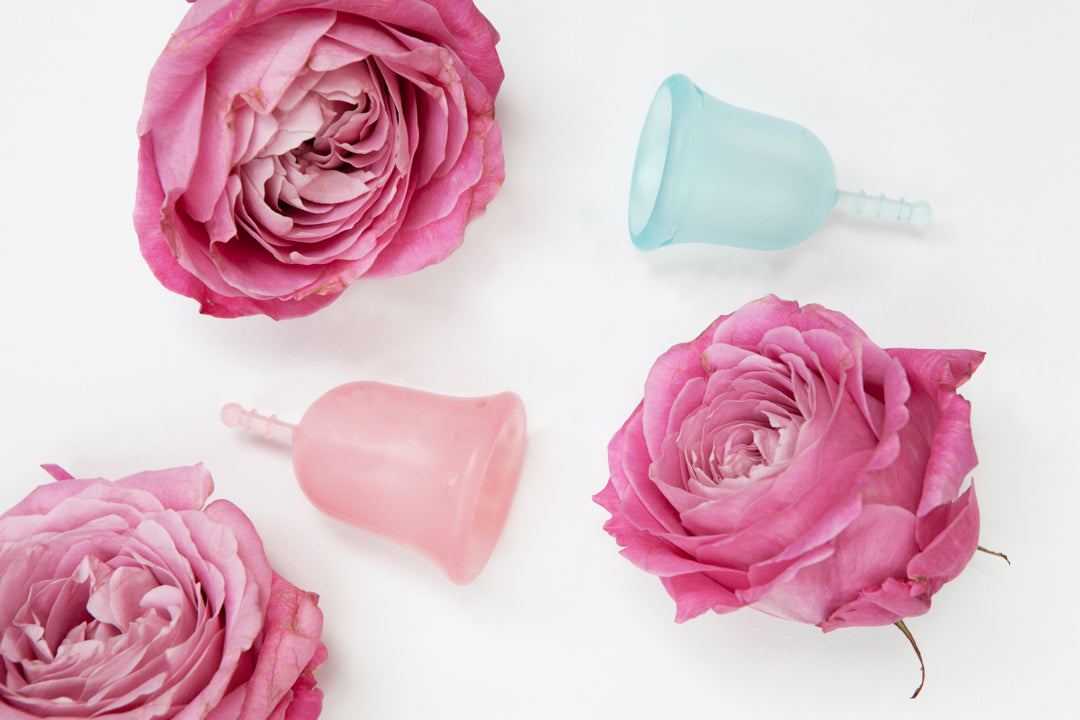 .2
Get into a comfortable position, like squatting or one leg on the edge of the toilet. Relax. If you are tense, the removal will be more difficult.
.3
LOCATE YOUR CUP. To do this, insert your thumb and index finger into your vagina to locate the base of the menstrual cup. If you can't find it, pull gently on the stem until you feel the base of the cup. Don't pull too hard. The goal is to reach the base of the cup then pinch the bottom of the cup to fold it up. It's important to pinch the cup to avoid thesuction cup effect and let in some air.
.4
Never remove your menstrual cup by pulling on the stem only.
.5
Use your pelvic muscles to help get the cup out. Everything should be done gradually, gently, and painlessly. Use your perineum and your abs to help get your cup down.
.6
Empty the blood into the toilet or a sink.
.7
RINSE THE CUPin hot water. During your period , there's no need to sterilize the cup each time you remove it. Once emptied and rinsed, you can insert it again and use it for another 6 to 8 hours. We recommend sterilizing the cup when you finish your cycle.
We suggest keeping your menstrual cup in between 6 to 8 hours.
How to clean your menstrual cup?
Maintaining the cleanliness and efficiency of your period swimwear is essential. Whether you choose to clean your menstrual cup carefully. We suggest washing your cup 'with regular water and a neutral soap, like the Marseille soap a specific soap made forintimate hygiene.
Avoid scented soaps and creams that can irritate the skin and vagina. These products may contain alcohol or other ingredients that are not ideal for the menstrual cup. Also, avoid white vinegar or other household detergents (dishwashing liquid, etc).
Use cold water to rinse it to prevent stains from settling.
How to sterilize your menstrual cup?
On each first day of the cycle, we recommend you sterilize the cup. There are several ways to sterilize your period cups. You can use sterilizing tablets or immerse your menstrual cup for 7 minutes in boiling water. The pan should be high enough for the cup to be completely submerged without touching the bottom. To prevent your menstrual cup from getting burned on the edges of the pan, you can put it in a kitchen whisk so that it does not touch the edges.
To make cleaning your period cups easier, Louloucup offers a sterilizer. There are two ways you can sterilize your cups. Here's how:
How to sterilize your cup in the microwave with the Louloucup sterilizer
Remove the lid of your Louloucup sterilizer and insert your cup inside, stem down.
Cover with water and place the sterilizer in the microwave for 5 minutes at 750 watts.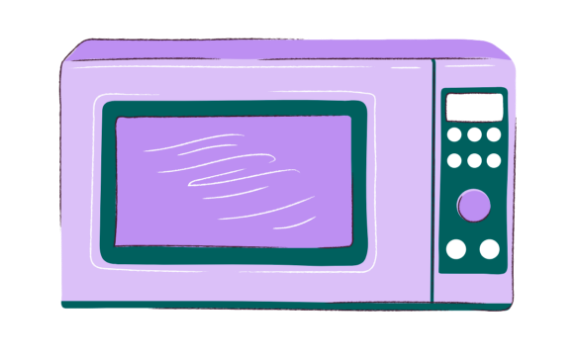 To clean your cup in boiling water with the Louloucup sterilizer
Remove the lid and insert its cup inside, stem down.
Cover with boiling water and wait 5 minutes.
Once the 5 minutes have elapsed, please wait for the cup to cool by running it under cold water before using it again. You can store it in its storage pouch once your cycle is finished. Be sure to check out our waterproof pouches that are perfect for storing your cup!
If you don't want to buy a cleaner, the easiest way is to put your menstrual cup in a pot of boiling water for a few minutes. To prevent your menstrual cup from getting burned on the edges of the pan, you can put it in a kitchen whisk so it does not touch the edges.
My menstrual cup is stained with blood; how can I clean it?
Over time, your cup may stain, but it's totally normal! This does not affect the function of your menstrual cup in any way.
If you want to remove blood stains from your menstrual cup, it's easy. Soak the cup in a mixture of half oxygenated water and half regular water. You can let it soak overnight. The next day, your period cup will be like new!
We suggest doing a hydrogen peroxide bath once a year.
How to use your menstrual cup when traveling or at work?
In general, emptying your cup outside your home is unnecessary thanks to its large absorption capacity. If, however, you need to empty your cup on the go, we have a few tips for you:
You can use toilets for people with reduced mobility. These bathroom stalls are equipped with a sink. Use the sink to rinse your menstrual cup like at home!
You can also:
Get a pack of two menstrual cups so you always have a clean menstrual cup ready to go.
Consider slipping a water bottle in your bag so you can rinse your cup over the toilet bowl.
Take your cleaner with you to easily rinse the cup on the go: put water in it and immerse the cup inside before shaking the whole thing. Just flush the used water down the toilet.
Should I use Menstrual Panties instead of or in addition to the Menstrual Cup?
The teen period panties are the perfect complement to the menstrual cup. At Loulou, we have an extensive collection of period panties that adapt to all flows, including very heavy flows or hemorrhagic flows.
If you have an exceptionally strong flow, the menstrual cup + menstrual panty combo can provide optimal comfort and protection during your period.
At Louloucup, we offer you both. The best is to buy a menstrual cup and 3 period panties to choose according to your desires and needs in order to manage your periods with pleasure and serenity.
To sum it up, menstrual cups are practical, economical, ecological, hygienic, healthy, discreet, reliable, odorless, and comfortable. Convinced yet?
If you want to switch to the menstrual cup, we recommend buying our Bundle: 2 Cups + 1 Louloucup Sterilizer.
If you have any questions, the Louloucup team is always there to help. With us, nothing is off the table :)