Your Guide to Menstrual Panties
Are you worried about making the switch to period panties? For decades, women have been subject to using disposable period protection. What if there was something better? More women are asking questions about modern ecological, affordable, and sustainable period protection. Find everything you need to know about Louloucup period panties in this complete guide, specially created just for you!
Period panties, what are they?
Period panties look and feel like everyday underwear. The only difference is that it absorbs period blood. Menstrual panties are just any other comfortable or sexy lingerie, available in thongs, briefs, and shorties. Taking you from light flow days to heavy flows, menstrual panties have a very high absorption capacity to prevent leaks and leave you feeling fresh and clean all day!
Certified organic cotton

Healthy & non-toxic fabrics

No silver nanoparticles

No irritation risk
Perks of using menstrual panties:
🌼 A period solution that respects your health

🌍 A washable and reusable alternative to preserve the environment

🥰 A comfortable choice to make your period easier
How we construct our period panties
We have cute and stylish period panties made from smart fabrics for optimal quality and comfort. The majority of our production takes place in Portugal. We're proud to produce 80% of our products on European soil. Our manufacturing workshops are audited to protect workers' rights by trusted third-party organizations like BSCI and AMFORI.
Our fabrics are certified Oeko-Tex 100 Our fabrics are not harmful to your health or the environment. The Oeko-Tex 100 label guarantees fabrics are free from harmful substances, including silver nanoparticles. silver nanoparticles. The composition is regularly tested by independent laboratories.
Louloucup period panties are made with three types of technical fabrics, giving our wearers the best experience without any surprises. 🌼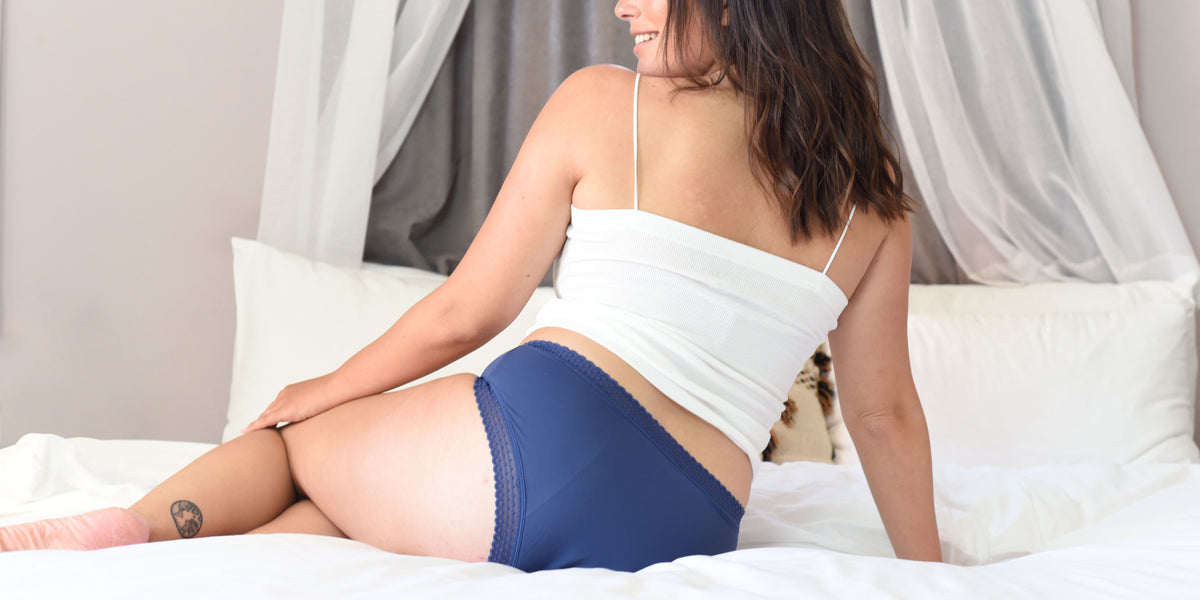 How to take care of your period panties?
Properly washing and caring for your period panties will help ensure you can wear (and love) them for longer. Here's how to extend the lifespan of your favorite underwear.
How to maintain menstrual panties: The steps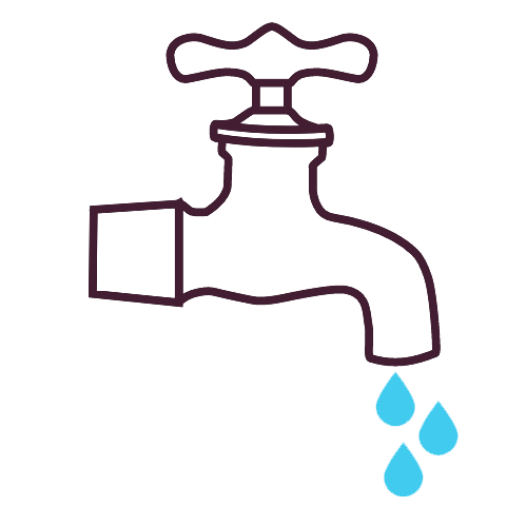 STEP 1 - RINSE WITH CLEAR WATER:
After using your period panties, rinse them with cold water to remove blood in the different layers. Keep rinsing until the water runs clear.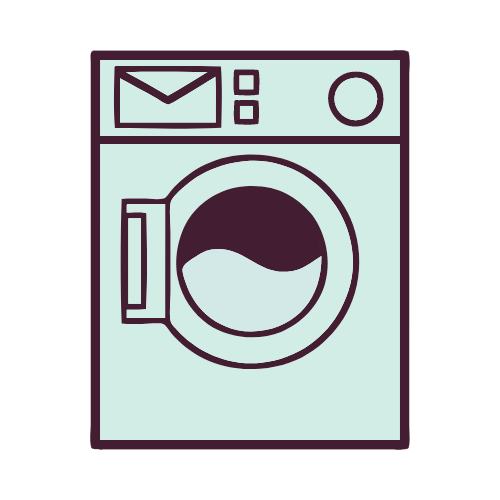 STEP 2 - WASHING PERIOD PANTIES:
You can wash your period panties two ways:
Machine wash
You can wash your period panties in the washing machine at 40°You can wash them with the rest of your laundry. We suggest washing them in a laundry netto avoid damaging them and preserve them as long as possible!
Hand wash
You can also hand wash your period panties by rubbing them with detergent and leaving them soak in cold water for about thirty minutes.

To take care of your period panties, please avoid using fabric softener and stain remover. These products can ruin your panties and make them lose their effectiveness. Soaps and detergents containing fatty substances are not recommended. Marseille soap or Aleppo soap can clog the fabric and prevent blood from draining.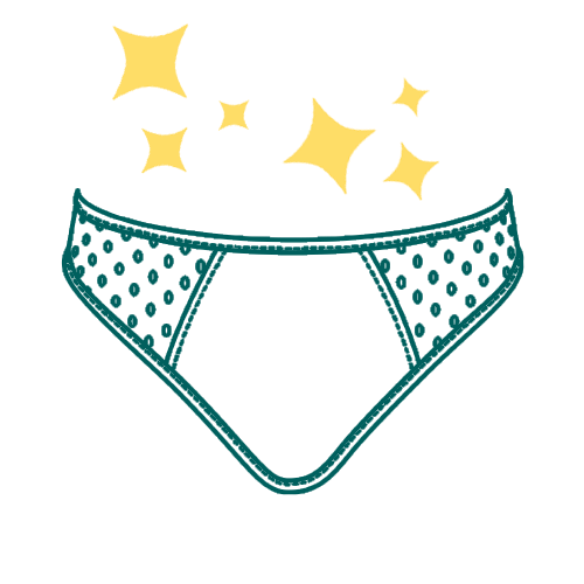 STEP 3 - AIR DRY:
Heat can ruin your period panties! Say no to the dryer. Instead, let your panties air dry.
A period away from home? No problem
Getting your period on a business trip, in the office, or while traveling can be a bummer. Don't worry about dealing with your period when you're away from home.
Our panties are designed to offer you optimal protection all day. If you have a very heavy flow, or even a hemorrhage, we recommend our Clara panties. These period panties can absorb large amounts of blood without having to change throughout the day. You can also wear your period panties and a You can wear a menstrual cup, for even more protection.
How to choose your period panties?
Choose your period panties according to your flow
When choosing your period panties, it's important to understand your menstrual flow.
Every woman is different, and flow can vary depending on your age and whether or not you use contraception. We recommend picking up several models depending on your day-to-day flow. That way, you'll be protected throughout your cycle.
Our menstrual panties have different levels of absorption:
Light flow : absorption levels of 1 to 1,5 tampons, generally for the beginning and end of menstruation, spotting, and white discharge.
Average flow: absorption levels of 2 to 3 tampons. *
Heavy flow : absorption levels of 4 to 5 tampons for very heavy or even hemorrhagic periods and during postpartum.
Every Louloucup model comes with its own absorption level. Do a test run at home to ensure your wearing the correct model for your flow. You can also check out the guide on our panties that details the absorbency of each pair. Do not hesitate to test, try the products, and compare period panties to find your perfect pair.
When in doubt, feel free to wear your period panties with added period protection, like a menstrual cup.
Which Louloucup model is best for me?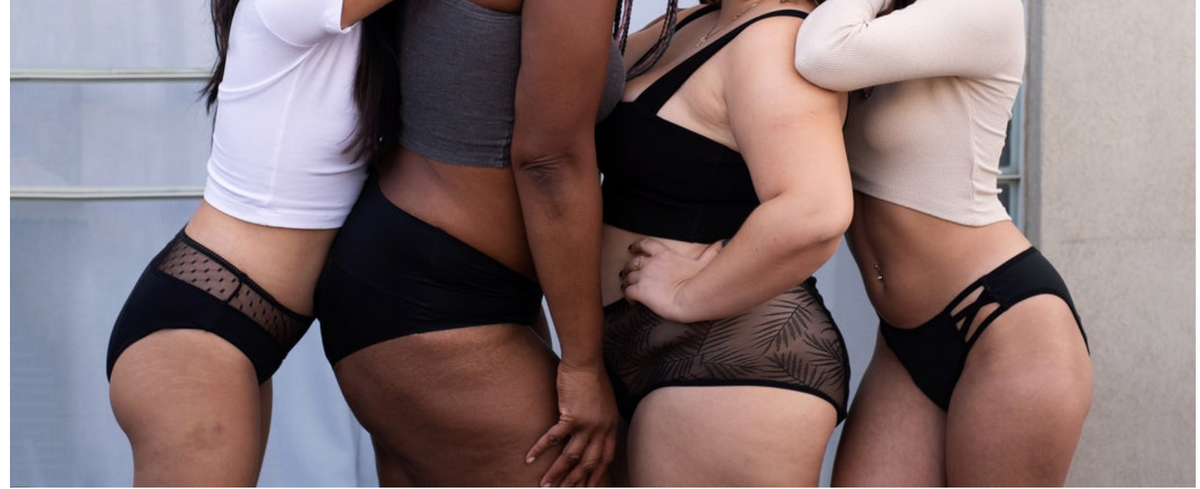 At Louloucup, we offer a wide choice of models that look like traditional lingerie We do everything to create beautiful, high-quality undergarments. We offer a variety of fits, fabrics, and sizes, so there's something for everyone. Our panties keep their promises and adapt according to your cycle and menstrual flow.
The styles Clara et Fanny are perfect for women with very heavy periods, or going through postpartum.
Try our medium-flow collection. These panties go up high in the front and back. Our medium-flow panties are perfect if you sleep on your stomach or if your flow tends to go backward.
If you have a light menstrual flow, try one of our light flow models, like our menstrual thong (Chloe thongs). Our light flow models are also perfect for white discharge and mocking. These specific styles can replace your disposable panty liners .
How many panties do you need per menstrual cycle?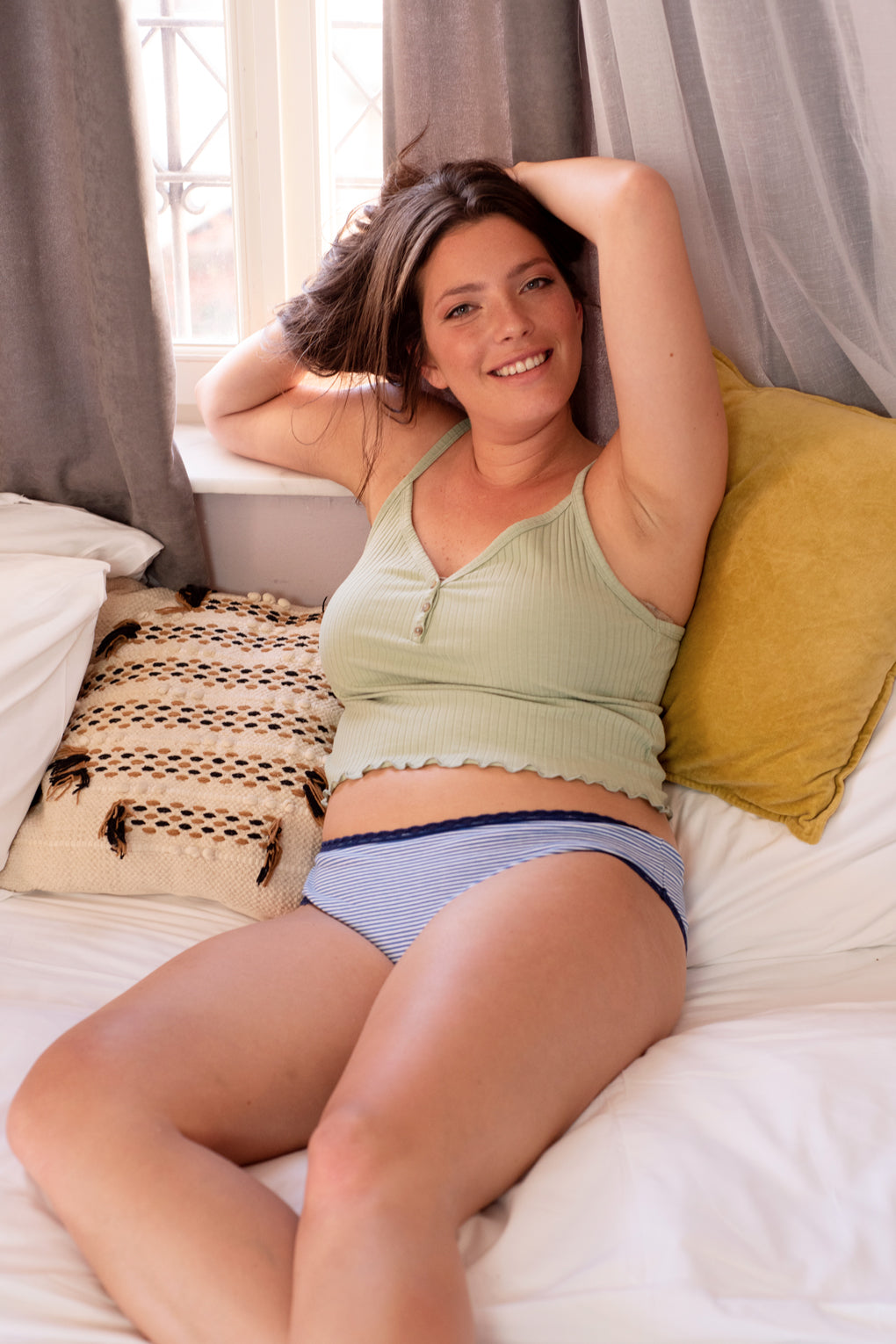 It's necessary to rinse and wash your panties after each use. You'll need several period panties during your cycle. That's why Louloucup offers bundles at lower prices.
To get off to a good start, we recommend at least 3 pairs of period panties.
Period panties can protect for up to 12 straight hours. It is necessary to change panties at least twice a day. However, depending on your flow, you may need to change your menstrual underwear more often (up to three times, especially for a very heavy flow).
For a more relaxed period, you have to be able to change styles from one day to the next. It's best to have a bundle pack of 5 period panties.
Our panties are cheaper when you buy a bundle

Why choose period panties?
Protect your health
Many people switch to menstrual panties after discovering how dangerous the materials used to make tampons or and pads can be.
Several studies have shown the presence of chemical compounds in disposable sanitary protection, including carcinogens, endocrine disruptors, pesticides, hydrocarbons, etc.
These traditional period protection products are often in direct contact with the mucous membranes, so it's important to use healthy products for your body. Common period products like tampons can cause the onset of CST or Toxic Shock Syndrome, for example.
Period panties are the best way to protect your body. While toxic shock syndrome is rare (only occurs in 1% of women), the prolonged use of internal period protection can lead to bacterial development.
Prioritize comfort
At Louloucup, your comfort is our #XNUMX priority. The cuts of our period panties are ultra comfortable and clean. We test our panties on all kinds of body shapes and sizes during the design process. Each size is cut differently. For example, the cut isn't the same for an XS as an XL. You can change models and sizes to find your most comfortable pair.
Additionally, the lining of our panties is made with certified organic cotton. Some of our period panties are XNUMX% cotton. Cotton is a natural and soft material, offering a comfortable feel without the "plastic layer" effect you sometimes feel when wearing disposable period products.
Save money 💸
Period panties are the cheaper, safer, and healthier hygienic protection women want!
Most women have menstrual cycles for around 35 years. A menstrual cycle usually occurs every 28 days or 13 times a year. Expenses related to disposable sanitary pads over a year are staggering! A woman is estimated to use approximately 10,000 disposable sanitary pads in a lifetime.
While period panties cost a bit more upfront, they have a 3 to 5-year lifespan. They generally pay for themselves in 5 to 10 cycles. In the long run, period underwear is less expensive than one year's worth of disposable period protection. You're also saving money while doing something good for the planet. Investing in menstruation panties can help you go green! Limit your waste using reusable and washable underwear.
Looking for cheap period panties ? Browse our panties and discounted period thongs in bundles in our shop.


Louloucup is a French brand that wants to offer best period panties. Let's recap:
- We guarantee unmatched quality thanks to our unique composition (our products are made without harmful chemical products) and made to respect your your body.
We use organic cotton to guarantee maximum comfort and avoid allergic reactions or skin irritations. Louloucup's menstrual underwear is part of our zero-waste initiative and is more environmentally friendly than sanitary napkins or tampons. Our panties are reusable and washable, and ultra-absorbent so you can rely on them for every period. No accidents, no leaks, and no stains with our panties! By choosing reusable hygienic protection, you'll save money in the long run!
Convinced? Are you ready to try out period panties? If you have any questions, our customer service team is always ready to assist! :)